If you're reading this, perhaps you travel a lot, whether for work or pleasure. And at the end of a stressful or exciting day, you might be in the mood for something familiar, and keeping up with your favorite show is a great way to get that feeling when you're away from home.
Yet it's not always as easy as turning on the TV, especially if you're in a different country or far away. Time zones are different, the local networks might not carry it, and you might be away from your usual methods and devices. Overall, it can be a confusing prospect. Yet we're here to guide you, and internet and cable providers, as well as content producers, have created more options to keep you watching (or binging) from week to week.
Previous Options
Effectively before the digital age, you've either had to rely on getting a VHS tape of it (hopefully you had a friend who cared enough while you were away). Following this came DVR, which while useful, had its drawbacks and certainly wasn't so easily available to you when you were away from home. On-demand programming of various forms followed, as opposed to more
Currently, we are now firmly in the time of "TV Everywhere" or authenticated streaming, which started at the beginning of the last decade as an effort to keep up with online streaming and provide more convenience for cable and internet customers who wanted to watch their shows on the go.
While often originally more focused on browsers, they've moved more frequently to smartphone and tablet apps, and other Internet of Things devices, coming through on their original promise. They also have previously been criticized for being rather difficult and obtuse to set up, although now improvements were implemented for many services, making them more user-friendly and accessible.
Free Online Streaming
Perhaps before anything else, a brief search will be able to tell you how to find the show you're hoping to keep up with. Some networks offer free streaming of their recent shows through their websites (some on a delay, some not). While the streaming quality can vary wildly and you may have to deal with ads, it can be a worthwhile option for those hoping for a simple and cheap solution, especially if you don't have a cable plan or other option listed below.
Premium Streaming Services
It's quite possible that some of the favorite shows you want to keep up with are on streaming services such as Netflix or Amazon Prime Video. If that's the case, then you'll simply want to check how to keep access to those services going and check in to see when the next release date will be. If they keep up with a show playing first on TV, there is also usually a set schedule as to how long it takes them to release the latest episode.
If you're a little behind, some services also allow you to download episodes to your device, so you take advantage of that if you have a flight or know the internet won't be reliable.
A few notes on each of the major options:
Hulu Plus
You will most commonly find this arrangement with Hulu, which advertises itself on the fact that it keeps up with shows. A quick search will tell you if your favorite will be supported by the streaming service.
They are, however, only available in the United States, so anyone else won't be able to use them, and they do their best to block VPNs for anyone traveling out of the country.
Amazon Prime Video
At times they release their own original content weekly, and as a rule, you can view Prime Video original content anywhere. If your favorite shows are on Prime Video, you shouldn't have any issue.
You may also get additional subscriptions through Amazon to other channels, which may help you keep up with shows on other networks.
Netflix
Based on previous trends and releases, they rarely "keep up" with shows on modern cable, and instead get the rights to seasons of programs you can binge later. There might be a show or two, but ultimately Netflix won't be a consideration for you.
Disney Plus
A newcomer to the market, you might want to check regularly to see if their policies change as they come to better understand audience demands.
They generally bundle packages with Hulu Plus and ESPN+ as well (they are all owned by Disney), so you will want to see if the shows or events you want to keep up with are also covered under this umbrella.
Authenticated Streaming or TV Everywhere Services
This might go under different names based on the service you're using, but "authenticated streaming" can simply mean that you're streaming content under the condition that you're signing in using a cable account to verify that you have a plan.
These types of services are offered either by a cable provider such as Comcast or Verizon, or a network such as HBO. For example, if you have HBO through your cable provider, then you could go to HBO Go (although that's now available separately), select your television provider and provide relevant login details, and watch your favorite programs from them wherever you'd like.
Alternatively, you could sign in through Verizon's app or portal and explore the options and programming available to you. What's available to you might depend on how your cable company operates, what special packages you have, and other factors.
They can operate in many ways, on different types of devices, and at different levels of convenience. Ultimately, you'll want to do some research to make sure that you can watch the shows you'd like, but once you're set up it can be rather intuitive (and by their nature, you'll only have access through your cable plan to one or two of them).
Services of Note
Here are a few TV Everywhere services (or service providers) you may want to use or consider:
DIRECTV
One of the more heavily advanced services and well-thought-out options, DIRECTV has the DIRECTV app, which you can use for streaming and on-demand programming. As something of a bonus, if you have AT&T Wireless (it's all under the same umbrella), then you won't use data streaming your favorite shows. Specifically, your DVR recordings are also available remotely through their services.
DISH
Similar in a few ways to DIRECTV, DISH has DISH Anywhere, which allows for live streaming, recorded programs, and also the ability to watch programs recorded on your DVR right from your device, which might make it a great option if you can set it up beforehand.
Verizon
Verizon will allow you to use your Fios account to stream a great deal of content, including some of your favorite shows. They have paired with many networks and have perhaps one of the most impressive libraries available for streaming, depending on your plan with the company.
Optimum (Cablevision)
Cablevision or Optimum has Optimum TV to GO, which has its own app for mobile use. The company will also direct you to other networks online and have you log in there with your information if you're using a browser. It only works in the United States, and the programming available does depend on the details of your current subscription.
Cox Communications
Cox Communications has its own app called Contour, which has a long list of channels you can watch live or on-demand through it. Depending on what you want to watch, the content might be free, or you might need to pay additionally for it. It should be noted that Contour is specifically not available to use outside of the United States.
Charter (Spectrum)
Charter doesn't have much of an app of its own, but on their website they are kind enough to provide a long list of channel apps and sites that they work with and their service would allow you to use (assuming you have that particular channel as part of your service plan). Most of them will allow you to watch live or, if the channel app permits, on-demand.
Google Fiber
While Google Fiber is somewhat rare compared to other services across the United States, they do have a form of authenticated streaming you can learn more about from this support page. Much like Charter, they generally rely on each channel to have their own setup and then link to them.
Channel Specific Apps and Sites
Now it should be noted that while we listed the above major cable providers and some notes about each of them, the other way to go about keeping up with your favorite shows is to see if the channel your favorite program is on has a corresponding site, and in some cases, your cable provider will simply push you towards them.
We won't be listing them all out and describing them here, as there are literally dozens to hundreds of them depending on what you count, but we recommend that you consider just looking up the channel your favorite show is on and seeing if they first have an authenticated streaming option and then whether your cable service is supported.
Online Stores
Platforms such as YouTube, Google Play, Amazon Video, Apple TV and others will frequently offer episodes of programs for rent or sale immediately after they air, much like how movies are offered. This can get expensive, as episodes can cost $2-5 each, depending on the length of the show and other factors.
That being said, it can be an extremely reliable way to get access to your program, and it would still be the cheapest option if you're only interested in catching up on one or two shows and you only planning on traveling for a week or two (and don't have authenticated streaming).
Is It Affordable?
You might be wondering if all the above options are entirely affordable for the average person and whether you'll be able to afford to watch your favorite shows. In most cases, you will be able to afford the services, or they're just a part of your cable or internet bundle. If you can afford cable, you can afford to keep up unless you're planning on using a dozen different services all at once.
Why You Shouldn't Torrent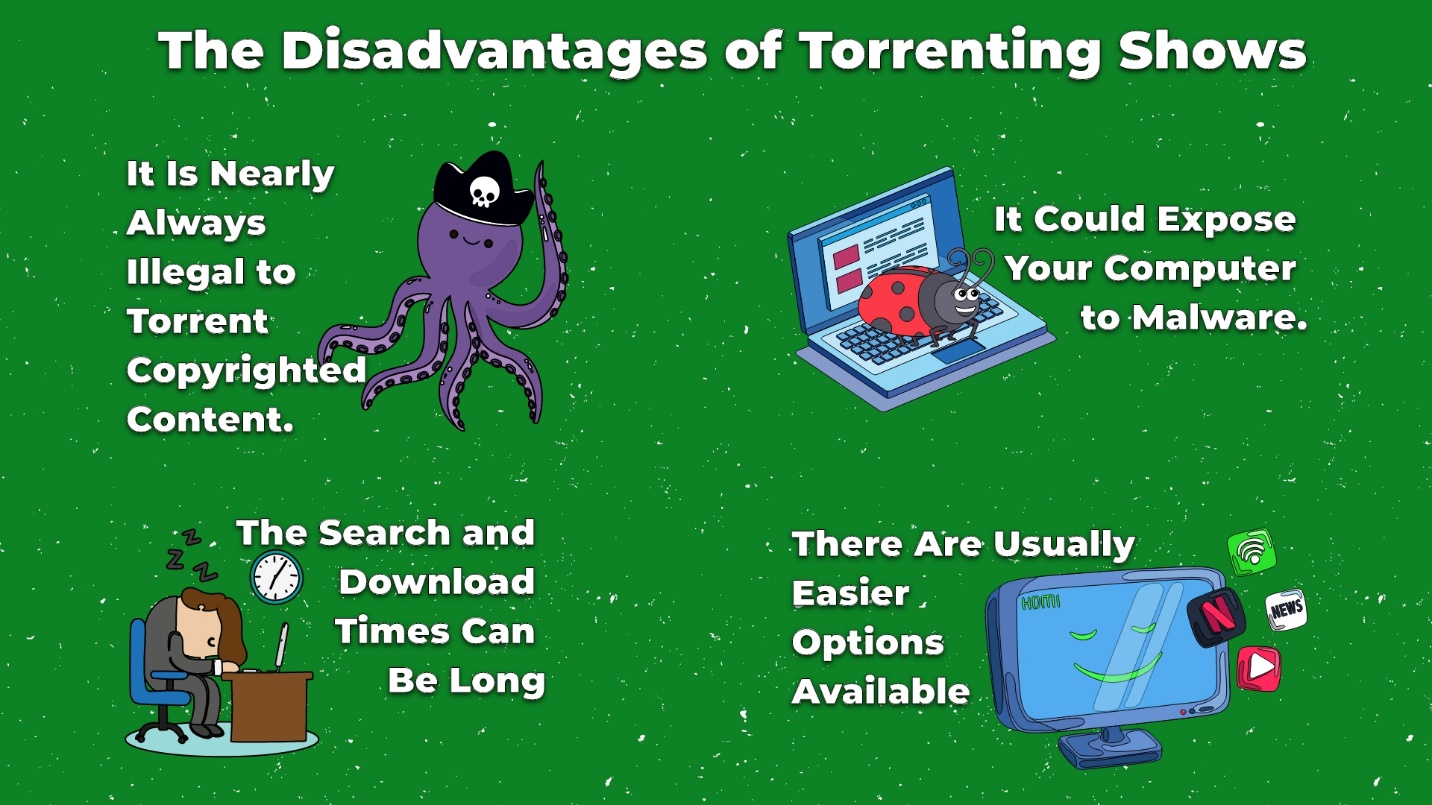 While less popular than it was in recent years given the accessibility of many shows, you might consider torrenting as an option to watch and keep up with your favorite shows while you're away from home. This isn't a good idea and is almost seldom the effort, for the following reasons:
It is against the law, and while realistically you are unlikely to get into legal troubles, sometimes companies like to make examples of people. Additionally, depending on your setup you might find your connection throttled as a result of your torrenting.
It can be difficult to determine if what you're downloading is legitimately what you're looking for, and the search time alone might not be worth the cost of some of the above options. Furthermore, downloading your show will either result in a significantly long wait-time (depending on your connection) or a subpar viewing experience.
Torrenting could potentially expose your computer to malware, malicious ads, and other problematic to outright dangerous threats. Torrenting sites are rarely well-protected or well-policed (by their nature), and it might be impossible to pre-scan files that you're about to download that are the size of a video episode.
Unless you are willing to accept the risks, we strongly recommend avoiding torrent websites.
Using a VPN
If you're traveling to another country, you may want to look into using a VPN, as your use of certain services (even if you normally pay for them) might be restricted based on your region or you might wish to try and catch shows that are region-locked, which can be a hassle. If you use a VPN, you'll be able to
You will want to consider the legality of using a VPN in your region as well, as some countries are much more restrictive of their use than others and some networks and content platforms are also opposed to their use.
Additionally, you will want to check your internet connection in conjunction with the use of your VPN, as the use of one can significantly reduce your download speed, making things difficult. For this reason, as well as reasons of privacy, we do not generally recommend the use of a free VPN and instead recommend that you look for a quality premium option you can trust instead.
Ultimately, you'll have to decide for yourself whether it's worth it to use a VPN in conjunction with other options to keep up with your favorite shows, or whether it's better to consider other options.
The Changing Situation
Something else we would like to note is the fact that anything regarding entertainment, streaming services, the cable industry in general, and distribution options is a constantly changing consideration, and it might be wise to double-check what is available to you each time you travel. Most of what we mentioned above will be around for the long-term, but there will be tweaks, changes, and quality-of-life improvements that might change your mind one way or another.
Small Facts and Tips to Keep in Mind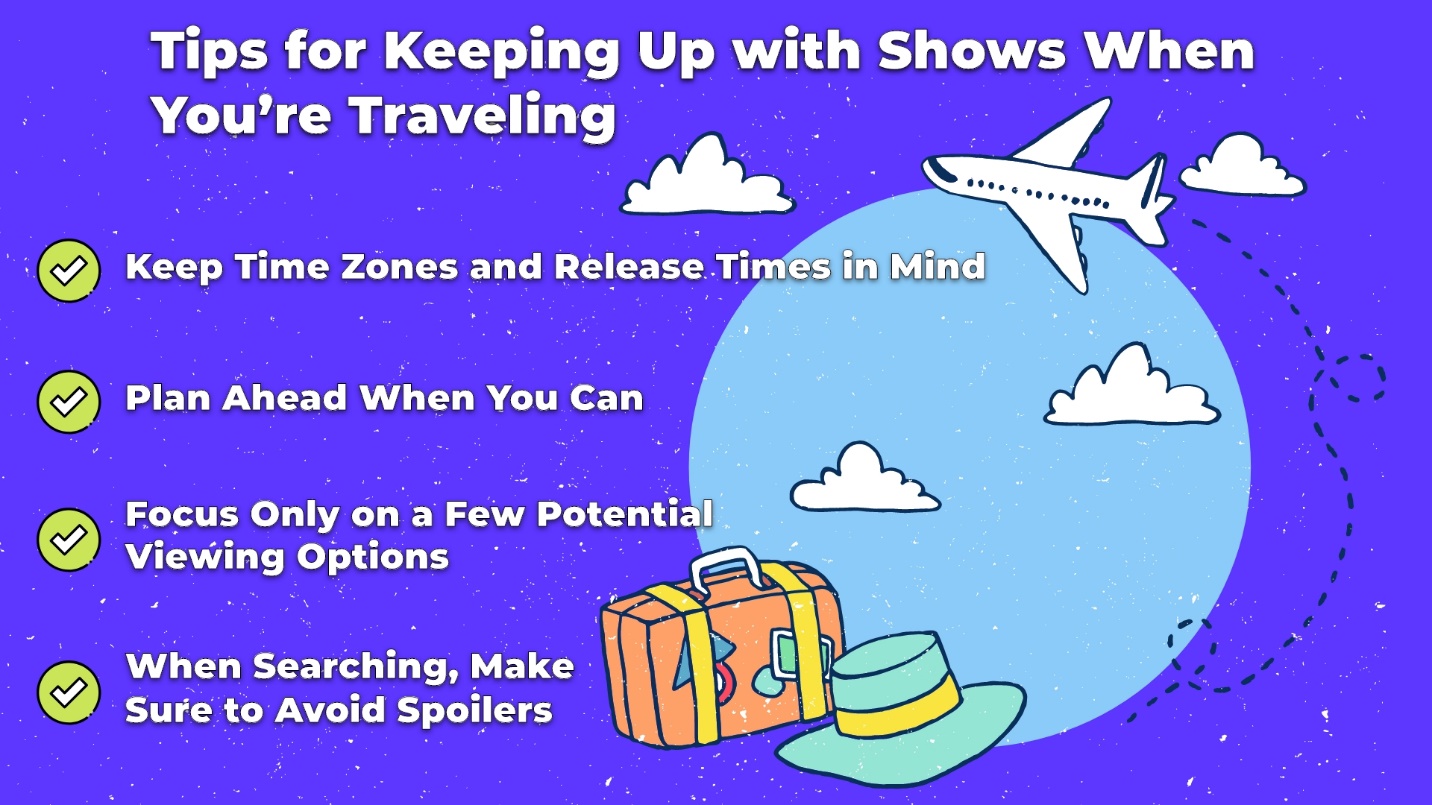 Keep time zones in mind when you plan to watch and catch up with your shows. You might accidentally start looking to find that the show hasn't aired yet. You may want to wait a day or until the next morning or evening, as by then, it will surely be available.
Try to look up shows and determine a plan before you travel, if possible. It's much easier to prepare and set up accounts when you aren't on the go.
Once again, try not to stress about every option available to you, and instead focus on a couple that you know will work for you.
While searching, make sure to try and avoid spoilers! Maybe create a shortcut directly to the pages or apps you plan on using to watch.
Conclusion
The nature of the world today often means frequent travel and a busier life, and that means there's simply no chance (or no desire) for us to watch our favorite shows at precisely the time they air. Yet technology has evolved, and services have adapted to the point where that is no longer a concern, and by utilizing a service or tool we've mentioned, we're certain you'll be able to keep up. We wish you the best on your travels and hope you watch whatever you like!
Article originally posted here and used with permission: https://www.cablecompare.com/blog/how-to-keep-up-with-your-favorite-shows-when-youre-away-from-home