When it comes to selling your house, there are a few things that you must consider. What will make your home more attractive to potential buyers? How can you make the biggest impact in the least amount of time and money? Fortunately, there are many cost-effective ways to increase the value and appeal of your home as you prepare it for sale.
1. Declutter and De-personalize
A great way to make your home more appealing is to declutter and de-personalize it. Remove any extra furniture, knickknacks, and family photos that might detract from the space. By creating a blank slate for potential buyers, you can give them an easier time envisioning themselves living in the home.
Also, clean out any closets and storage areas so the space appears larger. You can take advantage of this opportunity to donate items you no longer need or use. Categorize the items you're keeping and store them in labeled boxes. This makes it easier for potential buyers to see the full potential of your home's storage capabilities.
2. Make Minor Repairs
Small repairs can go a long way in making your home more sellable. Simple updates such as patching up any cracks in the walls, fixing leaky faucets, and replacing outdated light fixtures will help make the space look better and more inviting.
For example, a good choice of lighting can make all the difference in showcasing a room. Consider upgrading your existing fixtures and adding some accent lighting to draw attention to specific features or areas. The professionals at Unifiedhome remodeling say that updating your light fixtures can make the colors of certain features pop, making them stand out more. This is an easy way to make a lasting impression on potential buyers, especially if it's done in a cost-effective way.
3. Spruce Up the Exterior
The exterior of your home is often the first thing a potential buyer will notice, so make sure it looks its best. If you're on a tight budget, start by giving your front door and shutters a fresh coat of paint. Power wash any decks or patios, and add some bright flowers or plants to make the space more inviting. If you are not sure what color to paint your front door, consider consulting with a home stager or real estate agent. They can help you choose the best colors and materials for your space that will add curb appeal.
4. Update Your Landscaping
Landscaping is another important factor in making your home stand out from the competition. Trim any overgrown bushes, reseed any dead patches in the lawn, and add a few trees for extra curb appeal. A well-maintained lawn will also help your home's value.
Also, consider adding some outdoor lighting, a water feature, or potted plants for added appeal. Creating a cozy outdoor space is a great way to increase the value of your home and make it more desirable.
5. Stage Your Home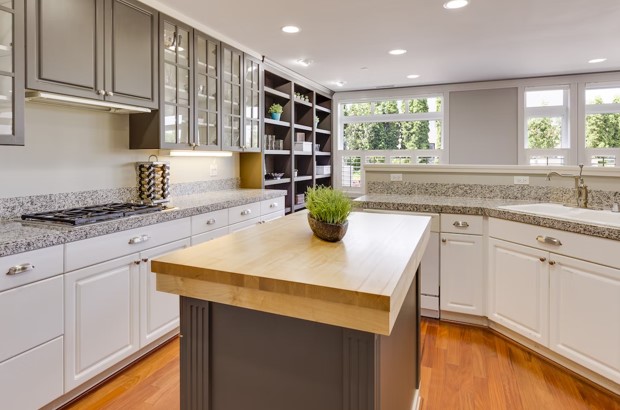 Staging a home can be as simple or complex as you like, but it should always reflect the needs and wants of potential buyers. Consider renting furniture to stage the rooms in your house, or work with a professional staging company to give your space a more luxurious look.
Staging a home can help potential buyers visualize themselves living in the space, and thus, make an offer on it faster.
6. Invest in Smart Home Technology
Investing in smart home technology is becoming increasingly popular and can add significant value to your home. Consider investing in automated thermostats, security systems, or lighting control systems. These features will make your home more attractive to buyers who are looking for a modern and efficient space.
You can be sure that buyers will be impressed with the advanced technology you've incorporated into your home, and it will help make your home more sellable.
7. Price It Right
Finally, pricing your home correctly is essential to make it sell quickly and for the best price. Do some research into comparable homes in your area so you can price yours competitively. A good realtor can help you determine the best asking price for your home and provide invaluable assistance throughout the selling process.
Even if you're on a tight budget, there are plenty of cost-effective ways to make your home more sellable. Take some time to assess the condition of your home and make any necessary repairs or updates before listing it for sale. This will help you maximize your home's value and make it more attractive to potential buyers.
Nevertheless, now that you know what it takes to make your home more sellable, you can start making small improvements and updates in no time. It's never too late to increase the value of your home and make it a hot commodity on the real estate market. So, get started today and make sure you have an edge when it comes to selling your home.