Furnishing a property is no small task, and it's important to make sure that you get it right. Not only do the pieces need to fit your style, but they must be comfortable and practical too. And if you're furnishing a rental property, then durability is key!
With so much to consider when buying furniture and appliances for your home or investment property, it's important to have a plan before you start. Therefore, here are 6 tips to help you furnish your property.
Set a budget
When it comes to furnishing a property, setting a budget is key. Consider how much money you want to spend overall, as well as having individual budgets for specific items – like furniture and accessories. Once you have an idea of what's available within your budget, you can start looking into the best pieces and combinations that fit in with your overall vision.
For instance, don't be tempted to buy the cheapest furniture you can find, as it could end up costing you more in the long run if it needs replacing sooner. On the other hand, there are some great deals to be had from buying second-hand or vintage items – just make sure they're in good condition and fit with your decor.
Start with the basics
When furnishing a property, it's important to start with the basics first. This includes beds and sofas, as these are usually some of the more costly items. Consider your options carefully – what pieces to purchase and where to get them from. Are you going to take into consideration the best deals on home appliances at Superior Home Supplies if you need to replace your current ones? Depending on the item, you may get a better deal if you buy in bulk.
Additionally, start with the largest items first and then add accessories or smaller pieces as you go. This will ensure your space isn't too overcrowded, and it also gives you the chance to be creative with the layout of each room.
Create a focal point
The aim of furnishing your property is to create an attractive, welcoming atmosphere that people will love. To do this, you should create one or two focal points within the room – an area where most of the attention will be directed when someone walks in. This could be a feature wall, an eye-catching piece of furniture, or even a dramatic statement light fitting.
Also, try to make sure the furniture is arranged in a way that encourages conversation. As much as possible, organize pieces of furniture into cozy little conversational areas and avoid overcrowding the room with too many pieces.
Think about the overall style
When furnishing your property, it's important to consider the overall style you want to go for. It's easy to get carried away buying individual pieces that don't fit together, which can result in a chaotic and mismatched look.
Therefore, pick pieces that complement each other and create a cohesive look throughout the house. This could be achieved by picking one or two colors for all of your furniture, playing with texture and materials, or even investing in unique pieces from local artisans. If you're feeling creative, you could even mix and match different styles to create an eclectic look.
Accessorize mindfully
Accessories are great for bringing the room together, but remember to keep them in moderation. Too many accessories can make a room look cluttered, so pick one or two pieces that stand out and focus on those instead. For example, a statement rug can add a splash of color to an otherwise neutral room, while an eye-catching mirror or wall art can make a bold statement.
On the other hand, you don't want to go over the top – stick to a few pieces of art and some neutral decor that draw your eye without overwhelming the space.
Be practical
Finally, don't forget to be practical when it comes to furnishing your property. Consider how much room you have available and what kind of lifestyle you lead before investing in furniture. For instance, if you have a small space and want to make use of every bit of it, look for pieces that double up as storage solutions like an ottoman with built-in shelves or a bed frame with drawers.
You can also look for furniture that can be easily moved around, which is especially important if you plan on rearranging your space often.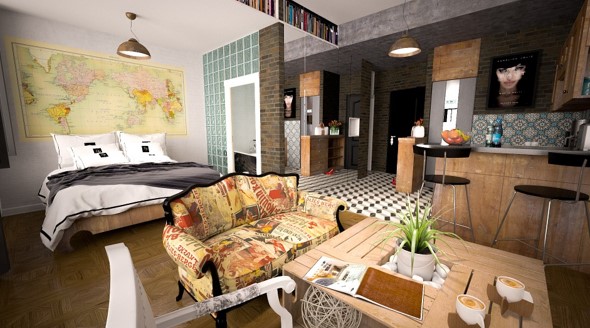 Furnishing a property can be an exciting yet daunting task, but with the right approach and some creative ideas, it can be done successfully. Remember to start with the basics first, create focal points in each room, think about overall style when selecting furniture pieces and accessories, and don't forget to be practical while furnishing your space.
With these tips in mind, you should have no problem creating a stylish home that will make everyone feel comfortable.